Architectural Coatings Market Segmentation By Resin, Technology, End-User | Industry Analysis, Size 2017 – 2025
Global Architectural Coatings Market: Snapshot
Architectural coatings are a type of coatings used in the building and construction industry. Mostly, architectural coatings are designated for specific applications such as roof coatings, wall paints, or deck finishes and are mainly employed for performing certain decorative, durable, and protective functions. The global architectural coatings market has expanded at a steady pace in the past few years, with the vast rise in the number of upcoming residential buildings across the globe being one of the key drivers.
The market is estimated to expand owing to the enhanced financial and social status of the population, especially in the emerging economies. Growth in environmental awareness has led to the introduction of quality products in the architectural coatings market. Several nations have implemented stringent environmental policies in order to lower the emission of VOCs. Thus the demand for water-based products is estimated to rise in the near future.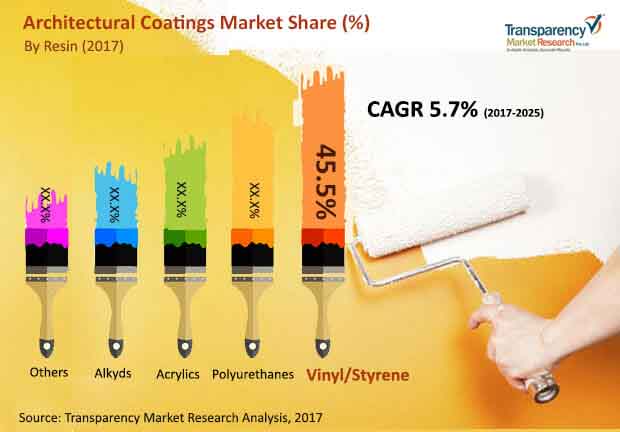 For More Industrial Insights Get Sample Report:
https://www.transparencymarketresearch.com/sample/sample.php?flag=S&rep_id=19343
Increased Preference to Low-VOC Binders to Massively Impact Market Growth
The choice of binder has great impact on the performance of architectural coatings. Interior architectural coatings have many performance requirements. If the coating is exposed to high moisture area, architectural coatings are formulated to withstand high moisture level to maintain substrate adhesion, and have high scrubbing and stain resistance. Architectural coatings which are applied on the exterior parts of structures have to withstand repeated climate changes, including freeze/ thaw cycles, resistance to rain, and dimensional instability of the substrate.
The key types of binders or resins used to manufacture architectural coatings analyzed in the report include acrylics, alkyds, polyurethane, vinyl/styrene and others. Acrylics, in the form of binders are primarily used for interior applications. Advantages of acrylics include excellent color retention, maintenance of film clarity, resistance to chalking, gloss retention etc. In the architectural coatings market, alkyd consumption is declining because of the VOC regulations imposed coupled with the availability of alternate coatings. Solvent-based alkyds have been replaced with water-based emulsions owing to their low odor, and emission of volatile organic compounds. Polyurethanes are commonly used for coating the architectural metal coatings. Key properties of polyurethanes include weather resistance, corrosion resistance, abrasion resistance and chemical resistance. Vinyl/styrene polymers are the commonly employed resins in the architectural coatings market.
Rising Demand for Water-based Coatings to Bring Down Consumption of Solvent-based Products
Cost effectiveness is the key factor which attracts manufacturers to produce architectural coatings based on vinyl/styrene resins. The others segment includes polyesters, epoxy, and fluoropolymers, etc. and are used in the metal furniture and other construction activities. The technology segment of global architectural coatings market is classified as water-based technology, solvent-based technology and others. Water-based architectural coatings are preferred as compared to other types of architectural coatings, owing to it is environment-friendly.
Water-based architectural coatings meet the U.S. and European regulations governing volatile organic compound emissions. In addition to low toxicity, high water content makes water-based architectural coatings less flammable, resulting in the elimination of hazardous waste disposal. Solvent-based architectural coatings are petrochemical derivatives and possess good curing properties. Rate of emission of volatile organic compounds is high in solvent-based technology and it is considered one of the major disadvantage of solvent-based technology which employs high content of solid materials dispersed in organic solvents.
For More Industrial Insights Get PDF Brochure:
https://www.transparencymarketresearch.com/sample/sample.php?flag=B&rep_id=19343
Some of the leading manufacturers of architectural coatings in the global market are The Sherwin –Williams company, PPG Industries Inc., and Akzo Nobel.